Barcelona wins 2011 Champions League final 3-1
LONDON: Brilliant Barcelona, inspired by the peerless Lionel Messi, delivered a soccer master class to overwhelm Manchester United 3-1 in the Champions League final and lift the European Cup for the fourth time on Saturday. Goals by Pedro, Messi and David Villa were a fair reflection of the Spanish side's dominance over United, who they also beat in the 2009 final. Wayne Rooney briefly levelled the scores but could not stop Barca making it three European Cups in six years. Mesmerising Messi amply lived up to his billing as the world's best player and the champions of Spain left their English counterparts looking like desperate also-rans in the face of relentlessly intricate passing and deadly movement.
"The people watching could see that we not only won but we played a brilliant match," said Barcelona coach Pep Guardiola, who was swamped by his players at the end. "We are very happy but to win a Champions League costs a hell of a lot of effort." United manager Alex Ferguson added: "We were beaten by a fantastic team but I expected to do better. But at the end of the day we have to acknowledge that we were beaten by a better team. I think it was the best team we have faced."
Barca's awesome superiority might have ensured it was never the classic showdown many neutrals had hoped for but everyone who witnessed it will cherish the memory of one of the finest final performances for years by a team that truly deserves comparison with the best the game has ever seen. The opening exchanges were something of a repeat of the 2009 final, with United snapping into every tackle and pressing hard but, just as in Rome, Barcelona soon settled into their rhythm and established control. Messi was a constant live-wire danger as the probing passes of midfielders Xavi and Andres Iniesta repeatedly had United's defenders forced into desperate last-ditch tackles.
They held out until what had become the inevitable breakthrough after 27 minutes. Not surprisingly it was Xavi who delivered the killer pass, delaying it long enough to wrong-foot United's defence and leave space for Pedro to calmly tuck the ball beyond Edwin van der Sar who endured a night to forget in the final game of his career.
United looked almost out of their depth but showed why they have reached three Champions League finals in the last four seasons by conjuring a well-made equaliser after 34 minutes. Rooney played a one-two with Michael Carrick then another with Ryan Giggs before sweeping the ball high into the net. Messi was soon millimetres away from a second goal after another high-speed give and go with Villa but somehow United reached halftime on level terms. The parity on the scoreboard gave a false impression though as Barca immediately regained control and, after more near misses, duly went ahead in the 54th minute when United made the fatal error of standing off Messi on the edge of the box.
The Argentine maestro rarely needs a second invitation and duly took a touch before driving the ball in for the 53rd and most important goal of his remarkable season. It was also his 12th in 13 Champions League games this season, equalling Ruud van Nistelrooy's record tally for United in the 2002/03 campaign. Messi set up the third too as he surged into the box and, although the ball was half-cleared by United's near-panicking defence, it went straight to Villa who killed it instantly before curling a superb 18-metre shot into the top corner. Barcelona duly played out the remaining period controlling the ball as only they can, while United became the latest in a long line of sides to be crushed by their wonderful technique. Amid the fireworks and flashes, the trophy was hoisted by Barca's French fullback Eric Abidal, back in action following an operation to remove a liver tumour in March – reuters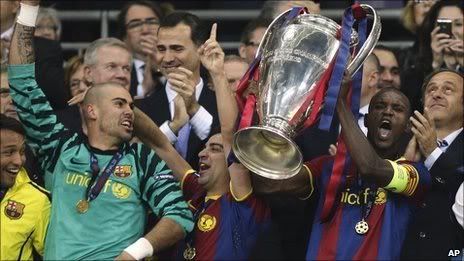 LONDON – Jurulatih Barce- lona, Pep Guardiola mengakui, beliau berasa sangat bertuah kerana memiliki ramai pemain berstatus bintang dalam pasukan itu.
Pada 1992 lalu, Gu- ardiola yang ketika itu masih bergelar pemain, meraikan kejayaan di Stadium Wembley apabila membantu Barcelona memenangi trofi Piala Eropah yang pertama.
Pengendali berusia 40 tahun itu sekali lagi menjadi perancang utama yang membantu Barcelona menewaskan Manchester United 3-1 pada final Liga Juara-Juara awal pagi semalam.
Kejayaan merangkul trofi paling berprestij di Eropah itu adalah yang kedua buat Guardiola dan keempat untuk Barcelona.
Begitupun, Guardiola enggan menerima pujian yang tinggi, sebaliknya menganggap kejayaan itu hadir atas usaha serta kesungguhan para pemain.
"Saya berasa sangat bertuah kerana memiliki pemain- pemain seperti yang hebat, terutamanya Lionel Messi, Xavi Hernandez dan Andres Iniesta," kata Guardiola.
"Saya tidak rasa seperti saya adalah bos mereka. Semua pemain telah bekerja keras bagi mencapai kejayaan ini dan saya ucapkan tahniah kepada mereka."
Pada aksi awal pagi semalam, tiga gol skuad The Catalan hadir menerusi jari- ngan Pedro minit ke-27, Lionel Messi (54) dan David Villa (69), manakala United memperoleh gol sagu hati mene- rusi Wayne Rooney (34).
Tambah Guardiola, beliau berasa puas selepas menyaksikan peningkatan yang dipamerkan anak-anak buahnya berbanding pada aksi final di Rom, Itali dua tahun lalu.
"Apabila saya ingat kembali corak permainan kami (Barcelona) ketika aksi final di Rom dua tahun lalu, saya merasakan persembahan kami kali ini sangat menakjubkan.
"Namun apa yang kami raih kali ini tidaklah semudah yang disangka. Ia terhasil disebabkan kerja keras kami untuk menjadi lebih baik pada masa akan datang," tambah Guardiola. – Reuters
Related posts:
Short URL: http://www.myxpitstop.com/?p=3566