Malaysia Martial Art "Silat"

Silat is an umbrella term used to describe the martial art forms practiced throughout the Malay Archipelago. Internationally it is now called Pencak Silat. Silat is a combative art of fighting and survival and it has been evolved in Indonesia, Malaysia and Brunei Darussalam civilizations for centuries into social culture and tradition. During the colonization era, both in Malaysia and Singapore as British Colonies and in Indonesia as Dutch colonies, practitioners (locally known as pesilat) used the martial art as a form to liberate from foreign authorities.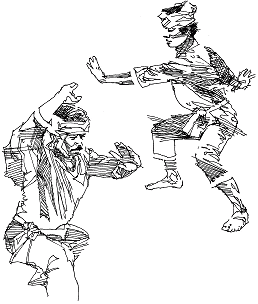 The distinctive forms of silat with other Asian martial arts, such as kung fu, tae kwon do or karate, lie on the cultural aspect. Silat is not only for combative purposes. When accompanied with traditional instruments, such as kendang (gendang), silat transforms into a folk dance. The term silat is actually a noun which has a formidable arsenal of terms used to refer to martial arts in Southeast Asia. It can be said in Malaysia as seni silat, seni bela-diri and sometimes ilmu silat. In Sumatra silat is known as silek and more popularly in Java and Indonesia as Pencak Silat. The Chinese fusion of silat is known as kuntao.
History
Silat spread throughout the Malay Archipelago since the seventh century AD, but its origin is still uncertain. However, silat has been acknowledged as a genuine Malay art. Malay people that have inhabited coastal cities of Sumatra island and Malay peninsula, from Aceh in the north to Kelantan, Kedah and Riau archipelago in the south, were the people who practiced silat. Contacts with other ethnic groups in the coastal cities had also influenced silat. There is evidence that Chinese and Indian culture had influence the martial art forms. When Islam was spread throughout the archipelago in the fourteenth century, it was taught alongside with silat. Besides as a combative art and cultural folk dance, silat then became a spiritual training.
Silat was gradually refined into the specialized property of sultans, panglima (general) and pendekar (warriors) during the Malacca Sultan, Majapahit and Srivijaya empires. It was the time when silat spread through Malay peninsula, Java, Bali, Sulawesi and Borneo. Malays, in particular in Malay peninsula, considers the legendary story of Hang Tuah of the fourteenth century as the father of silat.
Silat shares the same history in Malaysia (incl. Singapore and Brunei) and Indonesia during the colonization era as a form to liberate from foreign authorities. During post colonization era, silat has been evolved into formal martial arts. National organizations were formed, such as in Malaysia: Persekutuan Silat Kebangsaan Malaysia (PESAKA), in Indonesia: Ikatan Pencak Silat Indonesia (IPSI), in Singapore: Persekutuan Silat Singapura (PERSIS), in Brunei Darussalam: Persekutuan Silat Brunei Darussalam (PERSIB), as well as tens of silat organizations in US and Europe. Silat is now officially included as part of the sport game, particularly during the Southeast Asian Games.
Seni Silat atau Pencak Silat adalah salah satu seni mempertahankan diri bagi bangsa Melayu atau Nusantara yang diamalkan sejak berkurun yang lampau. Usia sesebuah ilmu atau salasilah seni silat tidak dapat dihuraikan secara terperinci dan tepat kerana tiada usaha-usaha untuk mengkaji dari pihak berwajib secara mendalam. Ada yang menganggarkan seni ini sememangnya telah berusia beratus-ratus tahun dan diperturunkan dari generasi ke sebuah generasi. Ini termasuklah adanya pengamal-pengamal seni mempertahankan diri ini dari aliran Silat di Malaysia, Filipina, Brunei, Indonesia, dan Thailand.
Di Malaysia sahaja telah wujud beratus-ratus tahun yang lampau dan mempunyai pelbagai cara seperti menggunakan senjata atau tanpa menggunakan senjata. Bagi silat yang menggunakan senjata. Senjata-senjata Melayu lama yang sering digunakan seperti keris, badik, kerambit, parang, pedang, lading, Tumbuk Lada, tekpi, tongkat, tembong dan sundang. Bagi silat yang tanpa menggunakan senjata, pengajaran akan menumpukan perhatian kepada pertempuran tangan kosong(tanpa senjata).
Jenis-jenis silat
Silat terbahagi kepada silat yang menjurus kepada seni atau bunga dan buah pukul atau kedua-duanya sekali (seni dan buah pukul). Namun begitu kebanyakan jurulatih mengajarkan kedua-duanya sekali. Silat seni seperti silat pulut biasanya dipersembahkan pada majlis rasmi dan majlis keramaian seperti majlis perkahwinan manakala silat dari jenis buah pukul atau seni tempur pula lebih banyak disorokkan dari pandangan ramai atas dasar-dasar memelihara seni permainan dan beberapa alasan yang lain.
Silat sehingga kini sudah banyak yang dipecahkan alirannya, seperti mana pecahnya silat Gayung (Gayung Laksamana, Gayung Laksamana Pahang dan lain-lain lagi). Di Malaysia sahaja terdapat hampir 500 Perguruan Silat yang telah dapat dikesan. Terdapat juga pendapat yang mengatakan bahawa silat kini semakin tidak mendapat sambutan dari golongan pemerintah yang sepatutnya memelihara seni ini dengan alasan, banyak ajaran sesat yang terdapat dalam silat. Bagaimanapun mereka yang mengekalkan budaya silat tetap meneruskan aktiviti mereka walaupun tanpa sokongan. Apa yang pasti Silat akan terus menjadi warisan dan lambang jati diri Melayu sedunia.
Related posts:
Short URL: http://www.myxpitstop.com/?p=294