Mulu Cave – The most under-mention wonders in the world
About Gunung Mulu
Heritage is our legacy from the past, what we live with today, and what we pass on to future generations.
United Nations Educational, Scientific & Cultural Organization (UNESCO)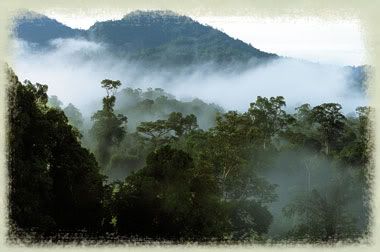 Mulu National Park in Miri, Sarawak, Malaysian Borneo, is a UNESCO World Heritage Site that encompasses incredible caves and karst formations in a mountainous equatorial rainforest setting. The park is famous for its caves and the expeditions that have been mounted to explore them and their surrounding rainforest, Gunung Mulu National Park is one of Nature's most spectacular achievements and the 'jewel in the crown' of Sarawak's expanding network of national parks. It is also the largest national park, covering 52,865 hectares of primary rainforest, which is criss-crossed by fast flowing rivers and clear jungle streams.
Considering Mulu's spectacular scenery and its biological significance, it was not surprising that Mulu was successfully listed as a World Heritage site in November 2000. To qualify for world heritage status a park must meet one of the four following criteria:
* Be an outstanding example of the world's geological history.
* Be an outstanding representative example of on-going evolutionary processes.
* Be of exceptional natural beauty.
* Contain significant natural habitat for in-situ conservation of biological diversity and the protection of threatened species
Mulu meets all four of these
:-
Earth's history and geological features
… Mulu's concentration of caves, its geomorphic and structural characteristics are an outstanding resource, which allows a greater understanding of Earth's history.
Ecological Processes
… Mulu provides outstanding scientific opportunities to study theories on the origins of cave faunas.
Superlative natural phenomena or natural beauty and aesthetic importance
… Mulu has outstanding scenic values, including the natural phenomenon of millions of bats and swiftlets leaving and entering the caves is a superlative wildlife spectacle.
Biodiversity and threatened species
… Mulu provides significant natural habitat for a wide range of plant and animal diversity both above and below ground.
World Heritage status has created renewed interest in the park and a genuine desire of the government and people of Malaysia to ensure it is adequately protected. Accordingly, the Sarawak Government has committed to developing world leading conservation practices and high quality nature-based tourism activities at Mulu and has committed considerable resources to ensure its goals are achieved.
Mulu's Geo-diversity
Vertical cliffs and incredibly steep slopes reach summit ridges before dropping abruptly down to deep gorges and hidden valleys.
Jagged limestone pinnacles, bleached white, spear out of the lush green canopy.
Cave passages twist and wind their way through the mountains, opening into chambers so large they defy description and dwarf you into insignificance.

This system, a breath-taking natural wonder, contains a number of record breaking caves. With the world's largest cave passage (Deer Cave), the world's largest natural chamber (Sarawak Chamber), and the longest cave in Southeast Asia (Clearwater Cave), it is not surprising that Mulu is now world-famous. Over 200 km of cave passages have been surveyed but this is thought to represent just 30-40% of the actual total.
In landscapes like these, to understand what we see today, we must look to the past.
The oldest of Mulu's caves started to form about 5 million years ago when sideways earth movements resulted in the formation of both limestone and sandstone mountains, lying side by side.
Many, many millions of years ago, new mountains pushed high above the earth's surface were rapidly eroded by the heavy tropical rains. Eroding rock produced grains of quartzite sand, which were carried by rivers from the mountains into the sea. Here it settled over time to form layers of sandstone. Again, the earth moved and its surface buckled and lifted, and so, the island of Borneo was created.
In an ancient sea teeming with sea life, coral reefs developed to form lagoons between the reefs and this new island. Some 40 million years ago, these lagoons began to fill with layer upon layer of minute sea shells which compressed over the next 20 million years to become a layer of 1,500 metre thick limestone.
When the movement of the Australian and Asian landmasses caused the earth's surface to buckle and fold about 5 million years ago, the land lifted once more. Tilting and cracking, the layers of limestone and sandstone were pushed up to create the mountains of Mulu.
The relentless process of weathering by the elements of rain and time now began to shape the landscape we see today.
Although limestone forms in sea-water, it has two very special features – it is porous, and it dissolves in fresh-water. As the rain falls on these limestone mountains, it passes through the soil and into the limestone itself through very small pores and cracks. Seeping and trickling through the limestone, the water gradually dissolves the rock, making these pores and cracks larger and larger to create a remarkable series of cave chambers and passages.
And here at Mulu you'll find, the biggest caves in the world.
Within Gunung Mulu National Park is the world's biggest natural enclosed space – Sarawak chamber, found in Gua Nasib Bagus. It is 2,300 feet (700 m) long, 1,300 feet (396 m) wide and at least 230 feet (70 m) high; according to the guides it is big enough to fit St. Peter's Basilica, the area is bigger than 20 football fields or even few stadiums and 40 jumbo aeroplane inside. Other notable caves are Benarat Cavern, Deer Cave, Wind Cave, and Clearwater Cave, which exposes parts of a long underground river going through the park.
Deer Cave
Deer Cave got its name as a lot of deer frequented the cave. It houses over 4 million bats, of several different species. This is not the most impressive thing about this cave, however. The sheer size of the cave is spectacular, whereby in contrast to the other caves it has the largest cave entrance and passage in the world. You can fit over five St. Paul Cathedrals in this cave's main chamber! It truly was colossal and a most magnificent natural phenomenon, and we were blown away as we thought Niah Cave was impossible to beat. With millions of bats living in this cave, the smell of guano was quite strong and over-powering, and as we walked to higher elevations the smell seemed to get stronger. It has two entrances at both sides of the mountain.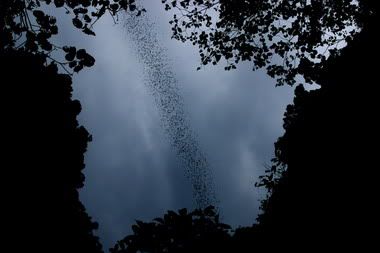 At about 6 p.m.daily they all fly out for their nightly hunting. Mulu is delightfully free of mosquitoes, and people say the bats are to be thanked for that. They came out first in small clouds, like puffs of smoke made up of whirling black specks. Their individual movement appeared erratic, but as a pack they moved in concert, flying over our heads and out of sight behind the trees. They kept coming until we could no longer see any separation between the groups, and now the column of bats moved like chimney smoke on a day with just a little wind, snaking left and right but not breaking. They did not spread out across the sky but clustered together in a band, and they kept coming for an extraordinarily long time, until it became easy to believe there are 4 million of them.
Lang Cave
Deer Cave and Lang Cave are close to each other. From the park headquarters, it is a one-hour walk (on a boardwalk) through the rainforest. Deer Cave is enormous and cavernous, whereas Lang Cave is deep, but narrow and intimate. The main attraction in Lang Cave is the great variety of fantastic limestone formations inside.
Langs Cave was named after its discoverer, and it was full of the most amazing stalactites (these grow down), stalagmites (these grow up) and helictites (these grow sideways against gravity). Apparently it takes approximately 50-100 years for 10mm of a "mite" to be formed and so you can imagine the age of the formations in these caves.
Clearwater Cave
Clearwater Cave is a short 10-minute walk through the jungle to Cave of the Winds, and is one of the longest caves in the world, currently measured at 140km, but they are discovering more of the cave every year. You can see intricate formations about 100 m at the cave ceiling.
The Clearwater River runs for at least 108km of this cave. It was really cool to see the force and power of the subterranean river carving its path through the limestone rock in the cave. Legend has it that if you wash your face in the crystal clear waters of the river within the cave, you will be granted youth; of course we had to do that and we feel younger already! This underground river leads to other caverns and passages. It is, however, not advisable for tourists to venture along this completely dark waterway.
Wind Cave
As literal as the name suggests, Wind Cave offers a cool breeze which comes from inside the cave. You can feel this cooling effect as you enter the mouth of the cave. At the entrance of the King's Room i.e. at the "upper deck", the cool breeze is even stronger, and it is extremely refreshing after the climb along the walkway from the river. Special walkways and lighting are constructed inside the cave. You can move with ease, which can prevent possible damage to the rock formations.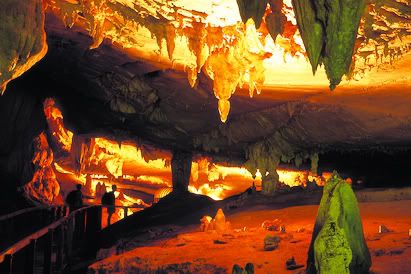 Sarawak Chamber
Sarawak Chamber is the world largest natural chamber measuring at 600 m long, 415 m wide and 80 m high. It is located in the south eastern part of Gunung Api, Sarawak Chamber. It resides Gua Nasib Bagus – Good Luck Cave. The chamber could easily house eight Boeing 747 aircraft lined up nose to tail.
The Pinnacles
The world famous Pinnacles consists of a series of 45 m high, razor-sharp limestone spikes that tower above the surrounding vegetation. It is mid-way up the slopes of Gunung Api. The trek to view them is one of the most popular in the park. But be warned, the Pinnacle Summit Trek is a tough and challenging one. The trail itself is very steep (near vertical in parts) and requires a certain level of fitness.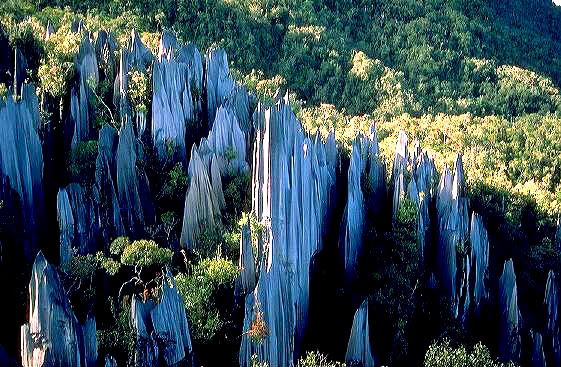 BIODIVERSITY
Clearwater Cave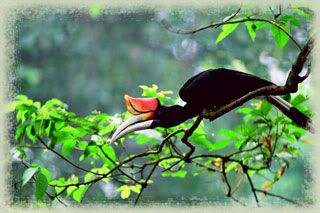 Although Mulu is synonymous with caves, the 'Mulu experience' is not limited to underground attractions; above ground there is plenty to see and do. The park is covered in rich primary rainforest and offers a whole range of nature-based activities. There are some excellent jungle treks and mountain hikes, including the challenging trek to view the Pinnacles – 45 metre high, razor sharp limestone spikes that sit majestically on the slopes of Gunung Api.
In Mulu, the heart of wondrous Borneo, you will be amazed by the rainforest around you. In the humid heat, plant life flourishes everywhere. Many thousands of species of ferns, mosses and flowering plants along with thousands of species of fungi thrive in this complex habitat.
52,000 Hectares of spectacular equatorial rainforest presents visitors to Gunung Mulu World Heritage Area with an outstanding diversity of flora and fauna. This is home to many fauna species from the world's smallest mammal the Savi Pigmy Shrew to some of the largest insects on Earth. In the dense foliage secretive macaques, bearded pig, moon rats hide, blending in so well that we rarely see them.
Forest types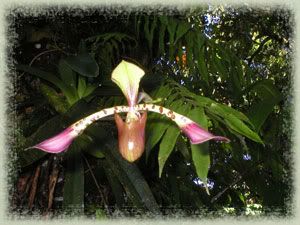 Look up at the tall towering trees blocking out the sky with their dense canopy. Richly coloured butterflies glide among trees entwined with lianas, ferns and orchids. The ground is a thick mat of leaves and fresh new seedlings struggling to find their own space. The heartbeat of life is all around you, plants and animals, living, eating and dying. Strangler figs, spread by fruit-eating birds, begin life germinating high in the canopy. Growing quickly in the sunlight this parasitic plant creeps down and around the host tree. Becoming larger and stronger and clinging to every surface available, strangling the tree in its death grip. Finally, the tree will die and rot away, leaving the fig standing as a shell of the tree's former shape.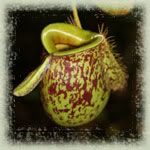 Watch out for the rattan, a thorny vine reaching for the sun, it entwines its way for up to 100 metres through the trees. An important plant for local people used in weaving but for the unwary, it's a painful meeting.
The air is rich with the perfume of 170 species of wild orchids. If you are lucky you will see the famous Slipper Orchids, or you may spot the curious shaped pitcher plants. Mulu is home to 10 species of these insectivorous plants which supplement their diet by eating visiting insects.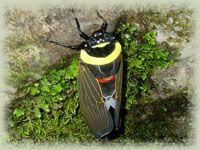 Some plants use animals in other ways. One species of ginger, flowers at ground level and exudes a pungent smell. Beetles rolling balls of dung, in which they will later lay their egg, are fooled into thinking there is fresh dung and eagerly seek it out.
The beetle gets no dung, but the flower does get pollinated.
Canopy Skywalk
The Canopy Skywalk is the world's longest tree-based canopy walk. It is 480 m in length from one tree to another and hangs at 30 m from the ground. The local people built the Canopy Skywalk with guidance from experts. It winds among the lush treetops with a tranquil river running below and the soaring heights of nearby limestone cliffs above. The Skywalk follows a circular route suspended between 15 trees with a separate exit tower. It is one of the newly completed world standard visitor facilities at the National Park.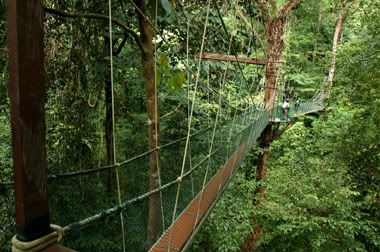 But why is Mulu so diverse? Well its topography ranges from just 50 metres above sea level near park headquarters to the peaks of Gunung Mulu at 2,377 metres, and let's not forget the unique underground environments in the caves. Combine this with a geology of alluvial clays, sandstone and limestone formations to produce dozens of niches and specialist environments for both plants and animals.
Related posts:
Short URL: http://www.myxpitstop.com/?p=774