Ronaldo plays last game for Brazil: Aksi terakhir Ronaldo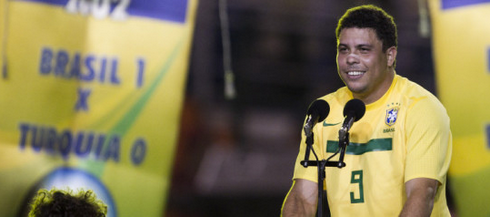 SAO PAULO — Former world footballer of the year Ronaldo ended his international career here on Tuesday with a 15-minute appearance as a substitute in Brazil's 1-0 win over Romania in a friendly match.
Watched by a 30,000 crowd, the 34-year-old striker came on for the last 15 minutes of the match with the home side already ahead through a goal from Fred after 21 minutes and he had several goal chances in that time.
"I had three goal opportunities but did not manage to score which would have been a nice present to give back to those who gave me so much," he said afterwards to fans in a chilly Pacaembu stadium.
Fred's match-winning goal was set up by the latest Brazilian golden boy Neymar, who has been linked to a move into the English Premier League.
Ronaldo announced his retirement in February citing recurring injury and health problems.
During a glittering 14-year spell in Europe, Ronaldo scored goals at a prolific rate for PSV Eindhoven, Barcelona, Inter Milan, Real Madrid and AC Milan, before returning to Brazil in 2009.
He won the World Cup with Brazil as a youngster in 1994 and then in 2002 and became the leading scorer in World Cup finals tournaments when he scored his 15th goal at the 2006 tournament in Germany.
He was twice named European Footballer of the Year, in 1997 and 2002, FIFA world footballer of the year in 1996, 1997 and 2002 and finished his international career with 62 goals in 97 appearances.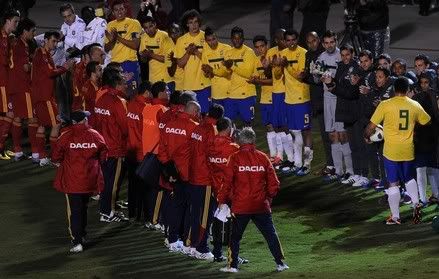 Aksi terakhir Ronaldo
SAO PAULO: Ronaldo yang kelihatan semakin berisi mengucapkan selamat tinggal kepada bola sepak ketika Brazil mempamerkan aksi membosankan meskipun berjaya menewaskan Romania, 1-0 pada perlawanan persahabatan, Selasa lalu dengan mempersia-siakan tiga peluang keemasan sepanjang tempoh 15 minit berada di atas padang.
Fred yang dikeluarkan 15 minit sebelum tamat babak pertama menjaringkan gol kemenangan hasil hantaran Neymar pada minit ke-22.
Ronaldo, 34, bersara Februari lalu kerana berdepan masalah berat badan akibat masalah penyakit tiroid.
Penonton yang menyaksikan perlawanan di Pacaembu mencemuh persembahan Brazil pada separuh masa kedua dalam perlawanan disifat sebagai perlawanan memanaskan badan sebelum turun mempertahankan gelaran Copa Amerika di Argentina bulan depan.
Brazil seri 0-0 ketika bertemu Belanda di Goiania, Sabtu lalu, berjaya mencipta tiga peluang buat Ronaldo yang lebih banyak berjalan tapi malangnya dia gagal menyempurnakannya.
"Maafkan saya kerana terlepas tiga peluang untuk menjaringkan gol. Saya ucapkan terima kasih kepada semua yang menyokong saya selama ini," kata Ronaldo yang berucap di bulatan tengah padang pada rehat separuh masa pertama. – Reuters
Related posts:
Short URL: http://www.myxpitstop.com/?p=3712